New Music Instruments & Gear
Sign up to be a Yandas VIP!
Join our mailing list and enjoy 10% off of your first order.
Becoming a Yandas VIP for first access to new gear, latest news, and great deals!
Signup
Yandas Connect Blog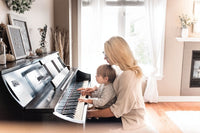 Music, a universal language that transcends boundaries,has a profound brain function and development. For ch...
Yandas Music Online Instrument Store
Yandas Music has been the top Music Instrument store destination in Nebraska since the early 1900's! Our online instrument store offers the best brands and service in the industry. Every guitar we ship out undergoes our rigorous "Pro-Tech" inspection. No Lemons guaranteed! Our no hassle return policy gives you piece of mind that new instrument you are investing in is the right choice.