This is by far the hardest list to do. There are thousands of drive pedals on the current market an almost as many great pedal builders. To only choose ten of those is a tall order, an none of you are going to agree with my list but here we go!
Like all my other "10 best" lists all of these are currently available on the market to purchase, so no vintage, rare or discontinued pedals. And again I will also include a brief description and reasoning as to why I choose each pedal. Enjoy!
10. Conspiracy Theory
Price: $149.99
We can all take a guess at what conspiracy George Tripps is referring to here. The box is even a gold color the knobs are red instead of brown and there is no half horse half man figurine on it but we get the picture. This Klon clone comes in at a 10th of the price of what an original can go for on the used market. With simple Volume, Treble, and Gain controls what else do you need.
9. MXR Timmy
Price: $149.99
MXR teamed up with Paul Cochran to bring you the Timmy in a smaller enclosure and to keep up with the demand. There are shoot-outs all over the internet pairing the original full-sized Timmy vs the new MXR smaller Timmy. If you can tell a difference you can probably tell at what speed a bees wings are moving. The controls are the same as the original with Bass, Treble, Volume and Gain along with a clipping switch. This little pedal holds the same big sound as its larger original counter part.

8. EarthQuaker Devices Westwood
Price: $179.99
Similar design as the Timmy, The EarthQuaker Westwood is another Mid to Low gain overdrive. Controls are Bass, Treble, Volume, and Gain. This pedal doesn't color the tone much at all but the 2-band-EQ allows for some great tone shaping. That and a great gain range and this is a very useful drive pedal.

7. Electro Harmonix Big Muff
Price: $87.10 - $125
Buy Big Muff Pi W/ Tone Wicker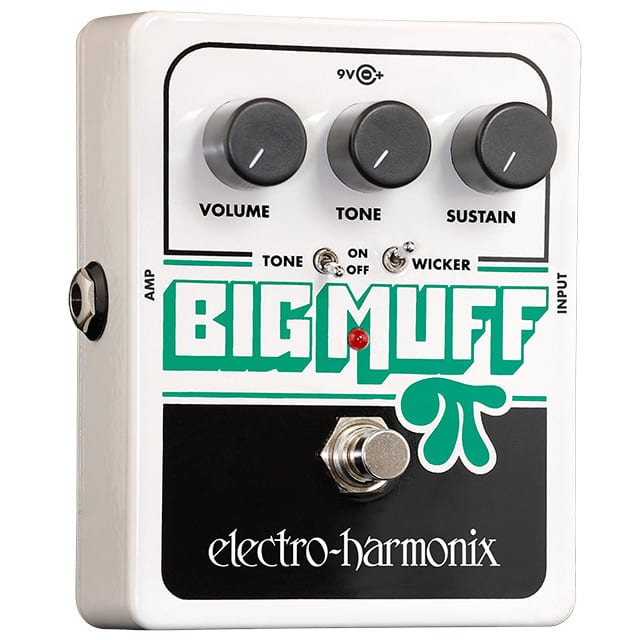 There have been several versions of the Big Muff over the years of its existence. Some are rare while others are affordable. There is a Big Muff for every one. The main current production line of Big Muffs includes The Big Muff PI, Nano Big Muff PI, Big Muff Tone Wicker, Nano Green Russian Big Muff, Nano Triangle Big Muff, Nano Rams Head Big Muff, Little Big Muff, Bass Big Muff, Deluxe Big Muff and Deluxe Bass Big Muff (I probably missed one or ten). The one thing they are have in common is they deliver a big, gainy wall-o-sound.
6. Fuzz Face
Price: $169.99
Made famous by Hendrix, Eric Johnson and most recently Joe Bonamasa the Fuzz Face gets it's name because it literally looks like a face. Some versions have Germanium transistors while others have newer silicon transistors. Probably one of the most cloned and redesigned classic fuzz circuits of all time. 
5. Boss DS-1
Price: $62.99
First released in 1997 this is Boss' standard distortion offering. Used on countless recordings over the years. Showing up on boards of greats like Joe Satriani, Steve Vai, John Frusciante of the Red Hot Chili Peppers and even Kurt Cobain of Nirvana.
4. Rat 

Price: $89.99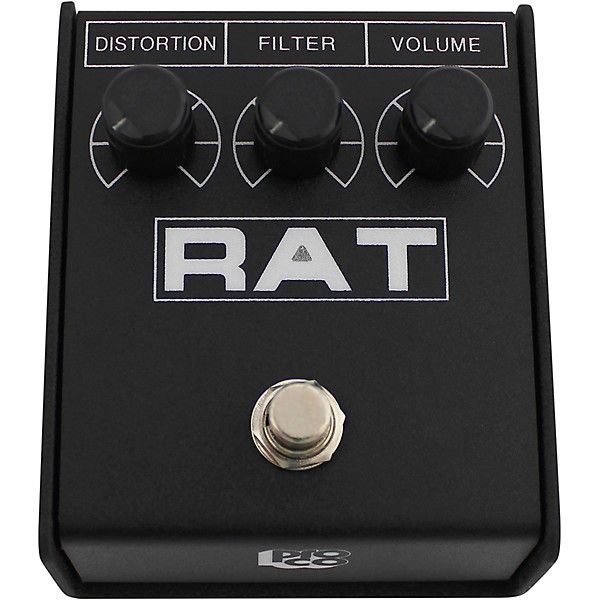 Is it Overdrive, Distortion or Fuzz? Yes! The ProCo Rat has seen a few different versions. The current market version is the Rat II. Its is a very versatile dirt pedal that can range anywhere from overdrive to full-on fuzz. You probably see this pedal used more in the higher gain range but definitely has a sweet tone in the lower gain range as well. Lately we have seen more and more boutique builders make their versions of the Rat. The VFE Alpha Dog, The Walrus Iron Horse, The Jam Rattler. JHS even says the Kilt can sound like a "Rat on cocaine" interpret that how you will. So it's obvious this pedal is growing in popularity.
3. Boss BD-2 
Price: $99.99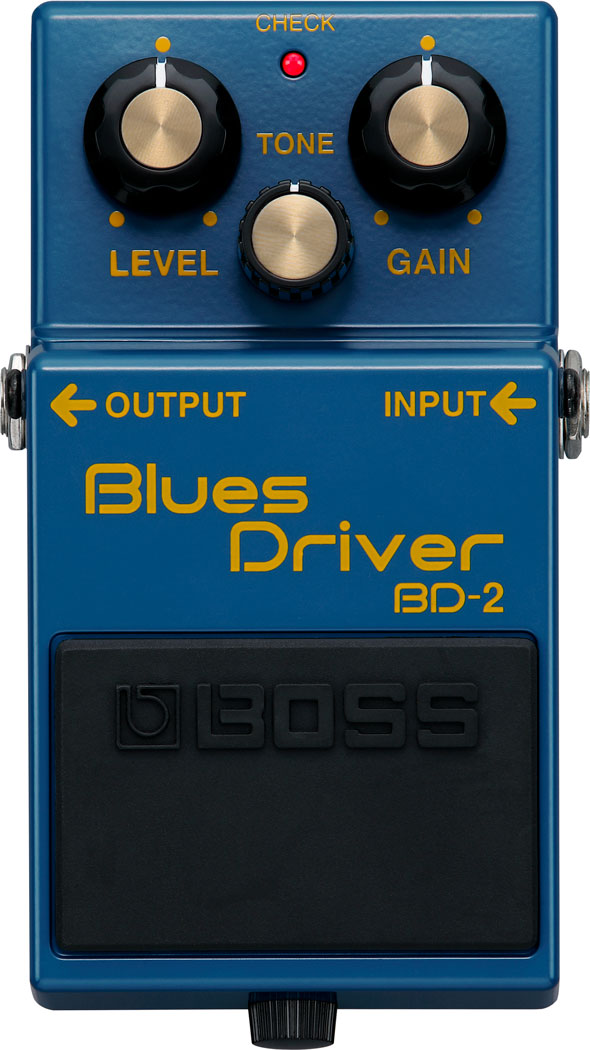 It's not accident that the number 2 and 3 spots on this list are from Boss. It would be easy to argue that the BD-2 should be edged out the SD-1 by a inch or vice versa. The BD-2 is here at number 3! It was introduced in 1995 and labeled as a blues pedal but definitely usable for all kinds of genres due to its open EQ characteristics
2. Boss SD-1
Price: $62.99
The Boss SD-1 is similar to the Tubscreamer but the SD-1 uses asymmetrical clipping verses symmetrical making the tone slightly different. The SD-1 has been a staple on many players board both beginner and professional alike. I quick look on some of the forums show that it's rumored that John Frusciante, Jimmy Page, David Gilmour and even Eddie Van Halen all used it on different recordings at different times in there careers.  

1. Tube Screamer TS808 
Price: $179.99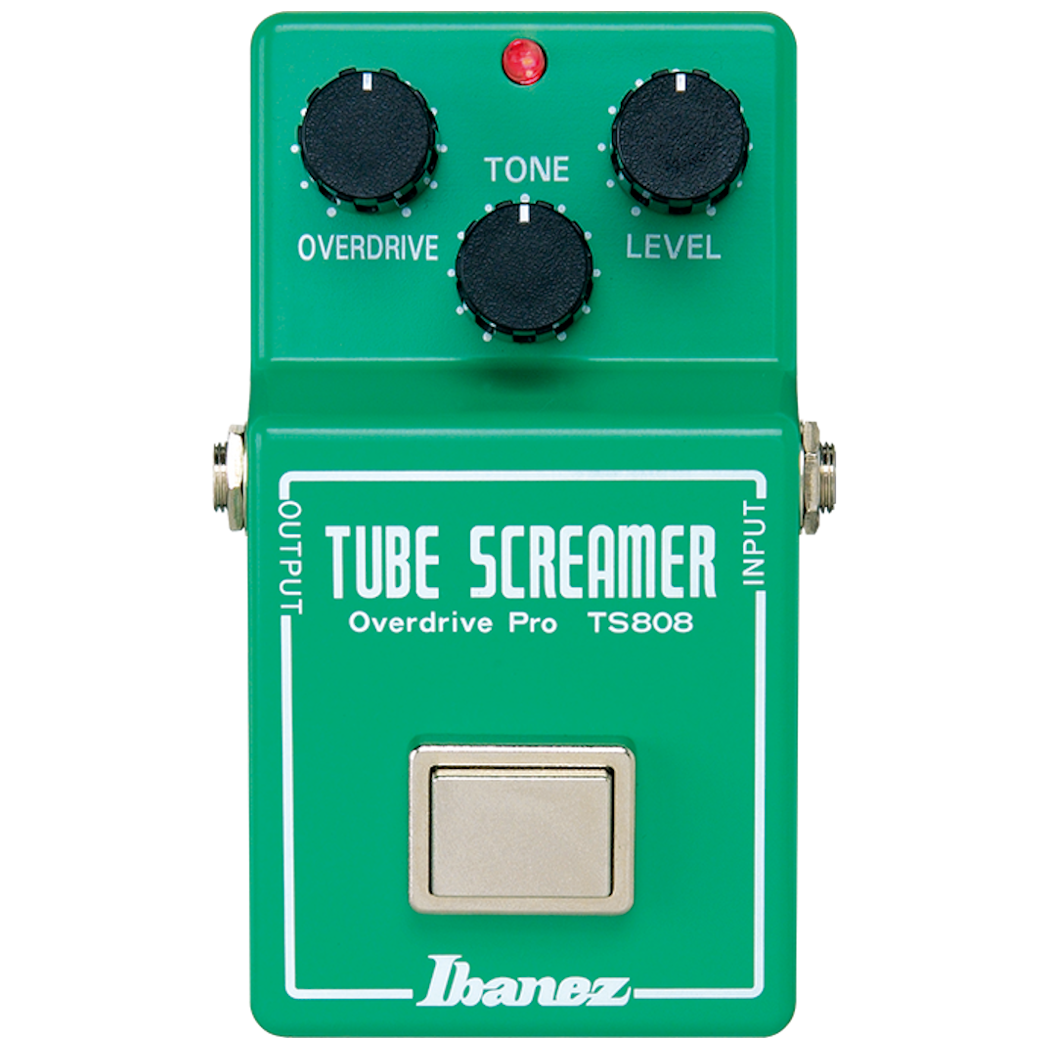 Here it is, Number One! The Ibanez TS808 Tube Screamer! Originally released in 1979, then released as the TS9 in 1981-1985. Later Ibanez released the 10 series of effects and the TS10. Later both the TS9 and the TS808 were re-released and are still on the current market.  The list of notable players that use the TS808 would hit the floor and roll out the door but here are a few... The Edge, Eric Johnson, John Mayer, Carlos Santana, Andy Timmons, Steve Via and probably the most notable TS808 player Steve Ray Vaughn. 
So let me know what some of your favorites are in a comment below! If there is something here you haven't tried pick one up next time you get the "I need another overdrive" bug. Until next time!