Ernie Ball Music Man NAMM 2022
Tosin Abasi Kaizen
Ernie Ball Music Man never fails to impress at the NAMM show. This year they unleashed a model that surprised everyone with the Tosin Abasi desgined "Kaizen" guitar. 

The Kaizen features an alder body, roasted maple neck ebony multi-scale fingerboard. Nothing earth shattering there, where the Kaizen really pushes the envelope is in it's unique body design, "infinity Radius" fingerboard, and the new Patent-Pending Heat Treated Pickups designed by Music Man.
Jason Richardson Cutlass
Music Man also released two new finishes for Jason Richardson cutlass. Majora Pruple and Empress White. The Empress White will be a limited edition offering.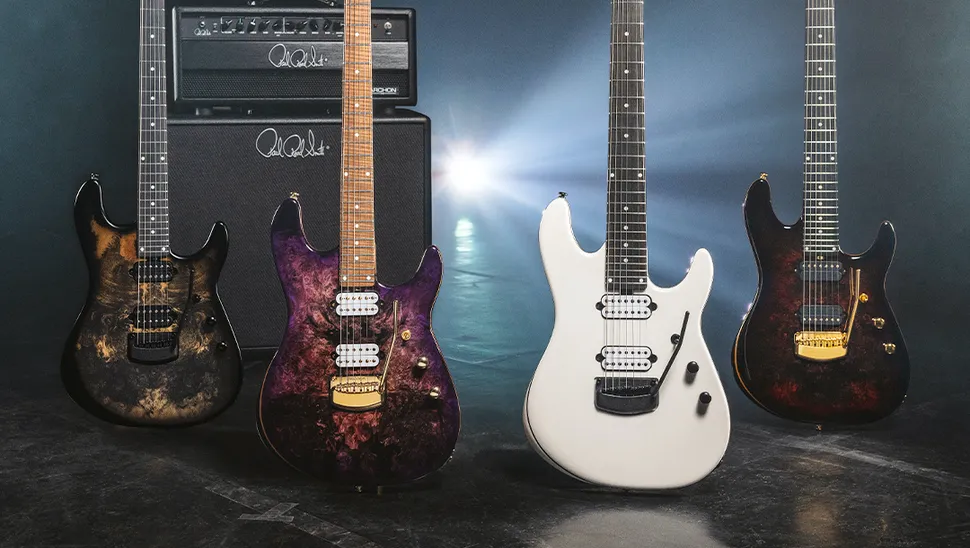 New Majesty Line
Not to be outdone, the Petrucci lineup has a few new additions including an 8-String option which will be available as a standard production model. The Majesty line will now feature four new finishes that will be avaialble in 6, 7, and 8-String string iterations: Sanguine Red, Wisteria Blossom, Emerald Sky, and Okelani Blue. 
Also announced is the solid maple top Majesty which will have two models. A spalted maple top model dubbed "Spice Melange"  as well as a Flame maple top "Crystal Amethyst" model.


New JP15 Finishes
The more traditional JP15 is also receiving two members to the family. "Purple Nebula", which was released as limited run on the Majesties a couple years back, and "Tiger Eye Burst". Both will be available with a flame or quilt maple tops.


5-string DarkRay Bass
The "DarkRay" Stingray will now be available in a 5-String version. Made in collaborations with Darkglass electronics, the DarkRay features built in fuzz and distortion effects.
35th Anniversary Stingray
Celebrating the 35th anniversary of the Stingray bass, the special anniversary Stingray features a spalted top with ash body, ebony fretbaord with copper pearlescent black inlays.
Ibanez NAMM 2022
As always, Ibanez came to the show armed with a slew of new artist models to show off including guitars from Nita Stauss, Jake Bowen, Joe Satriani, Steve Vai, and Tom Quayle.
Joe Satriani JS2GD
It's hard to miss the JS2GD's  "Gold Boy" finish. This HSS guitar features DiMarzio Satch Track single coils and a FRED bridge humbucker, and a new control layout which has forgoes the traditional blade style pickup selector in favor of on/off toggles for each pickup as well a coil tab in the tone pot. 

Steve Vai PIA3761C-BLP
The PIA3761C is now available in a Blue Powder finish which features chrome hardware and unique handle cutout.

Tom Quayle TQMS1-CTB
Introducing the tele style TQMS1, Tom Quayle signature guitar. Born from the Ibanez AZS line, this guitar features Seymour Duncan Magic Touch-mini neck pickup and Alinico II Pro Custom pickup in the bridge. The proprietary "Alter Switch" delvers series  and split-coil sounds.

Jake Bowen JPB9999-AMM
The Ibanez JPB9999 is a beast of a guitar featuring 27 frets, HS pickup configurations including new custom pickups, and Azure Metallic Matte finish.

Godin NAMM 2022
Godin releases two new guitars. The Session R HT Pro and Derry Grehan signature model "Tread 1".
The Session R HT Pro features a reverse headstock design and two Lace Sensor Hot Golds Single coils and a Seymour Duncan Humbucker in the bridge.

 The Tread 1 sports the same yellow and black tread graphic that Derry Grehan is known for. Features include a sliver leaf maple center block with poplar wings, Floyd Rose Original Style 1000 Tremolo, and EMG 85 / SLV humbuckers.
Yamaha NAMM 2022
The popular Revstar range of guitars receives an update. featuring additions with chambered bodies, new finish options, and the new "Element" model that comes in at very comfortable price point and features a mahogany body and neck, with a rosewood fingerboard. The standard Revstars line upgrades to a Maple top and carbon reinforced neck while the Made-In-Japan Professional line feature carbon inserts inside the chambered body to increase vibration transfer.
Vola
Vola showed off their two new signature models at the NAMM show. Quientin Godet and Pierre Danel are guitarist for the French metal band Kadinja. Both guitars feature Vola "Fire Ice" humbucers and VS-I single coils. The control layout on these guitar is rather unique. A Push button activate the neck single coil regardless of pickup selector position plus a 3-way mini toggle allow for series, parallel, or coil tapping options